Art Print On Canvas As An Exclusive Decoration For Your Wall
Millions of people travel to museums every year to take a closer look at the works of great artists such as Leonardo da Vinci, Vincent van Gogh or Peter Paul Rubens. The fascination with the various artistic movements remains as great as ever, whether it be Expressionism, Realism, Baroque or Renaissance. Unfortunately, museums are not open all day and are often so busy that there is not much time to take in every brushstroke, the play of light, shadow, and the use of colorwork. With our art prints of famous painters on canvas, you can now bring a piece of art history into your home. The most popular categories are:
Take a look at our selection of artist canvases and imagine yourself in a museum where all the works of art from around the world are collected. If you have found a design that you like, place your order, then we will get to work to create your art print for you.
What Makes Art Prints On Canvas The Perfect Decoration?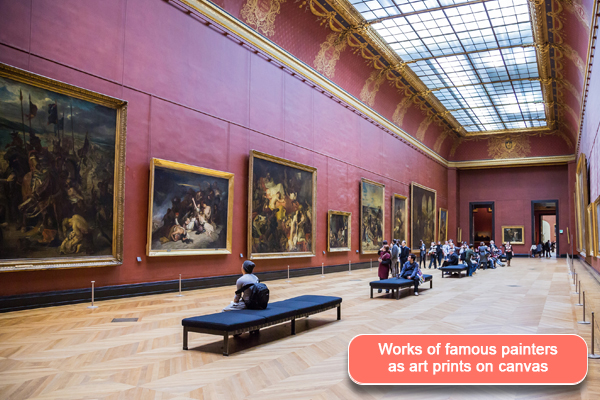 There are countless ways to decorate your home and its walls. From wall tattoos, to a special wall color, to photo wallpaper... everything is possible. But why be satisfied with the ordinary when you can set very special touches with our canvases of famous painters. Not everyone has a Mona Lisa in the very best and highest print quality hanging on the wall of their living room.
From our wide selection, simply choose the design that you like best. Here you will find, for example, well-known works such as "Starry Night" by Vincent van Gogh, "The Three Graces" by Peter Paul Rubens, or the unique work "The Vitruvian Man" by Leonardo da Vinci. Moreover, during the ordering process, you have the option to choose a black and white version of all images. This allows you to view the works in a whole new light.
All canvases from Canvaso are made from the finest materials. The printing is done with special printers for large formats and with water-based inks. All canvases are stretched on stretcher frames made of real wood. The wood comes from local and certified forestry. After production, everything is securely packaged and shipped to your address as quickly as possible. Before you know it, you will have your first high-quality art print on canvas in your possession. All designs are also very suitable to give as gifts. If you know someone who has had a work of art on canvas on their wish list for some time, you can be assured of giving them great pleasure.